Karsten Warholm
Corporation
Many might have noticed that we have followed hurdler Karsten Warholm's athletic achievements closely over the years.
Jets Vacuum has been a long-term sponsorship partner for Karsten Warholm. As his career is launched into the athletic stratosphere, it's time for him to continue to develop high profile partnerships with big consumer brands and we wish him all the best!
Karsten Warholm
Karsten Warholm Karsten Warholm, born 28 February 1996, is a Norwegian athlete and Olympic champion who competes in the sprints and hurdles. In July 2021, he broke the 29-year-old world record in 400 metres hurdles. The following month at the 2020 Summer Olympics, he won the gold medal in the 400 metres hurdles with a time of 45.94 seconds, breaking his own world record by over three-quarters of a second.
Warholm has also won gold in the event at the World Championships in 2017 and 2019, as well as the 2018 European Championships. He is a two-time 400m hurdles Diamond League champion. In 2021, he was voted World Athletics Male Athlete of the Year.
Source: Wikipedia
We caught up with Karsten and his manager and mother Kristine to talk about the relationship between Team Karsten and Jets™ Group.

"I've grown up with Jets™ being a big part of our family," says Karsten. "My grandfather, Kåre Audun Haddal, spent a lot of time building the company as CEO, and it was natural for us grandchildren to be engaged and involved in its development."
Remembering his grandfather as a great storyteller, Karsten has fond memories of stories from many business trips for Jets™: "Through these stories, we learned a lot about Jets™, but also about culture, language, environment, different countries and more. I feel privileged to have been so close to Jets™ in this way," reflects Karsten.
"Before training and competitions consumed my time, I worked at Jets™ during my summer school breaks. It was great fun, and I still enjoy catching up with the people I worked with back then. Being in the production hall is a good place to start to get to know the products. They are the heart of the company, after all."
Karsten even joined Jets™ at a few trade fairs, both in Norway and abroad. "It was always an interesting and fun experience. There was a lot happening, and interesting things came up, providing great learning experiences."
What has it meant to you to have Jets™ as a sponsor from the start?

"It has meant a great deal to me to have consistent support from sponsorship partners throughout my development at kids', junior and senior level. Jets™ has been one of these partners, both as a contributor to my club, Dimna IL and, since 2016, as a personal sponsorship partner.
"Great partners and a capable team behind you are paramount to be able to work your way up to eventually perform at an international level," Karsten concludes.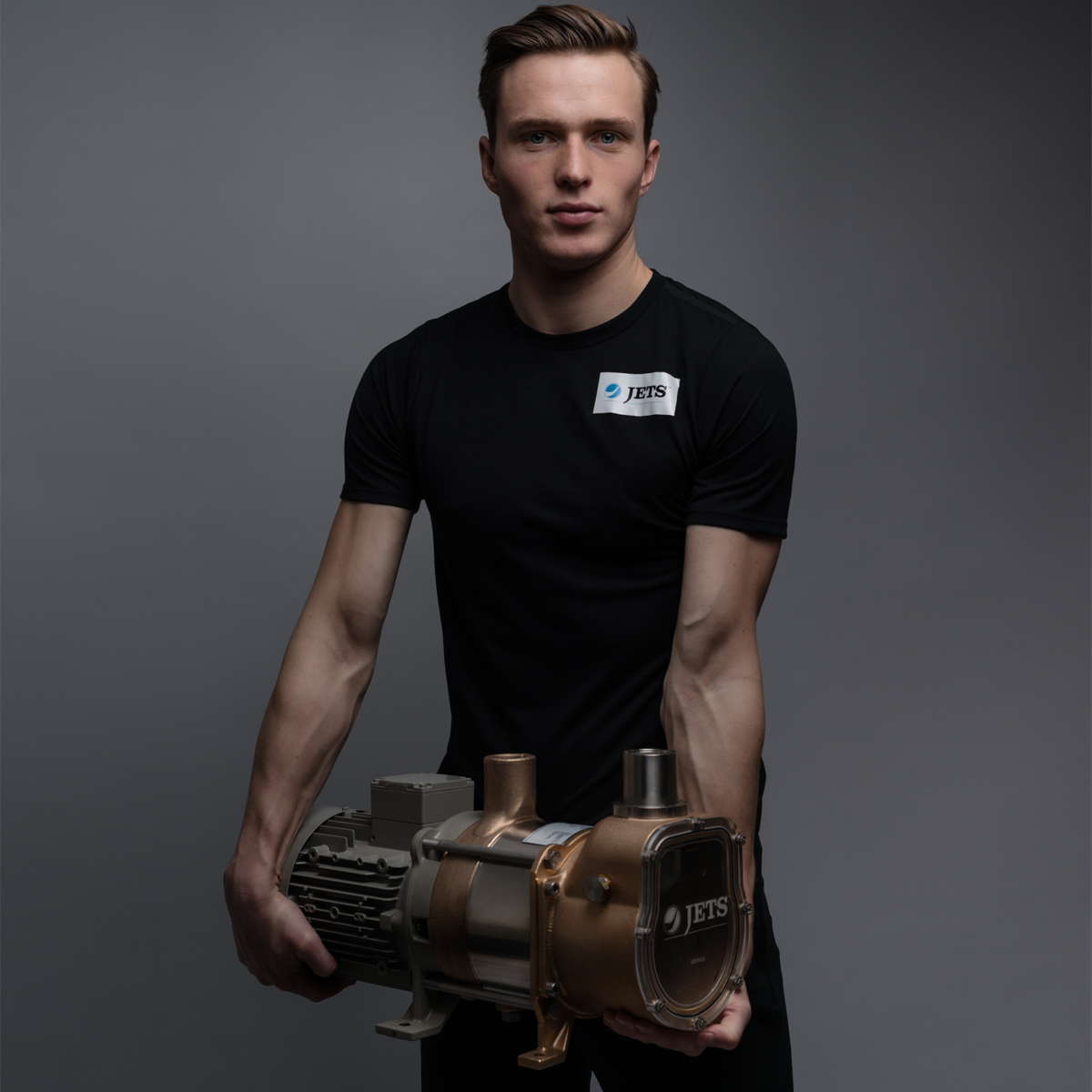 Kristine Haddal is Karsten's mother and manager. We asked her to tell us about the partnership with Jets™ from her point of view as a manager and a member of the family.

"Jets™ has been understanding of the fact that Karsten's time must first and foremost be dedicated to training, restitution and competitions. We have been able to work together on activities at times when it works with his calendar."

Kristine describes Jets™ as a "sporty" partner: At Karsten's own athletics event, the Karsten Warholm International, Jets™ happily put together a team to run in the entertaining relay show race that closed the event in 2020. "They have always been very engaged in Karsten as an athlete and his results," says Kristine.

Could you tell us a bit about the background for the partnership? Aside from the familial connection, why Jets™?

"We have been very mindful, throughout Karsten's career, on what type of partners we want on the team. Shared values, goals, and knowing each other well, are important foundations for a good and long-term partnership," says Kristine. "In this case, there was little doubt that the involved parties knew each other well and that we knew we had common values, history and outlook. A personal partnership agreement between Karsten and Jets™ was signed in 2016. Since then, a lot has happened, both for Karsten and Jets™.

"It has been nice to have Jets™ behind us from the first senior gold medal at the World Championships in London in 2017, to Gold during the European Championships in Berlin in 2018, World championship gold in Doha in 2019 (with Jets™ representatives cheering from the stands!), and this year with Olympic gold and a world record during the Olympics in Tokyo."
Jets™ Group will continue to support grassroot clubs and continue to cheer Karsten on in his career. We wish him all the best going forwards!