Sustainable toilets in remote destinations
Construction and public
The Norwegian Scenic Routes are a selection of 18 roads surrounded by exceptional beauty. Along these roads, rest stops and viewing points are designed by architects, landscape architects and artists. One of the most spectacular destinations is Trollstigen. Here, water saving vacuum toilets from Jets™ provide a high standard of sanitation to visitors.
Project highlights
Type of project: Public toilet facilities with up to 500 000 visitors per season.
Challenge: Locations with no access to public sewage and limited water supply.
Jets™ solution: By reducing the water consumption by up to 90%, holding tanks are able to cope with the volume with less frequient emptying.
The Trollstigen road is closed in winter, but during the busy summer season as many as 500 000 people stop here. 'Like many of the other attractions along the Norwegian Scenic Routes, Trollstigen is in a remote location, far away from public water supply and sewerage', says Sales Manager Magnus Holstad at Jets™.
More often than not, there is no access to municipal water and sewer connections along these roads. Wells are drilled for the water supply, and the sewage is collected in holding tanks. Combined with the high number of visitors using the restrooms, this creates challenges due to the volume of waste at the service buildings in the tourist season.
By using Jets™' water saving vacuum toilets, the Public Roads Administration has reduced water consumption and sewage volumes by 80-90%. 'First of all, this is due to the more efficient use of the often limited water available. Secondly, it greatly increases the intervals between emptying the holding tanks, which means lower maintenance costs', Holstad explains.
High standard
Although they reduce water and sewage volumes, vacuum toilets have the same user comfort as traditional toilets. The only difference experienced by the user is that Jets™ toilets use very little water. Less than one liter per flush, as opposed to a minimum of six liters in traditional toilets. By using vacuum technology, the flushing process is efficient and hygienic. 'In other words, the technical benefits of using vacuum toilets are not gained at the expense of the user's experience', Holstad points out.

The service building at Trollstigen has both a water source and mains power, but in other locations the Public Roads Administration has fully experienced that our vacuum toilets can provide the comfort of home, anywhere. At the Flotane rest stop by the Aurlandsfjellet mountain pass for instance, solar panels supply the power needed for both the toilet system and other equipment.
Without mains power, water and sewerage, it would be challenging to build a rest stop with conventional toilets by a stretch of road as isolated as this. Our products are ideal for meeting this exact type of challenge.
- Magnus Holstad, Sales manager at Jets Vacuum AS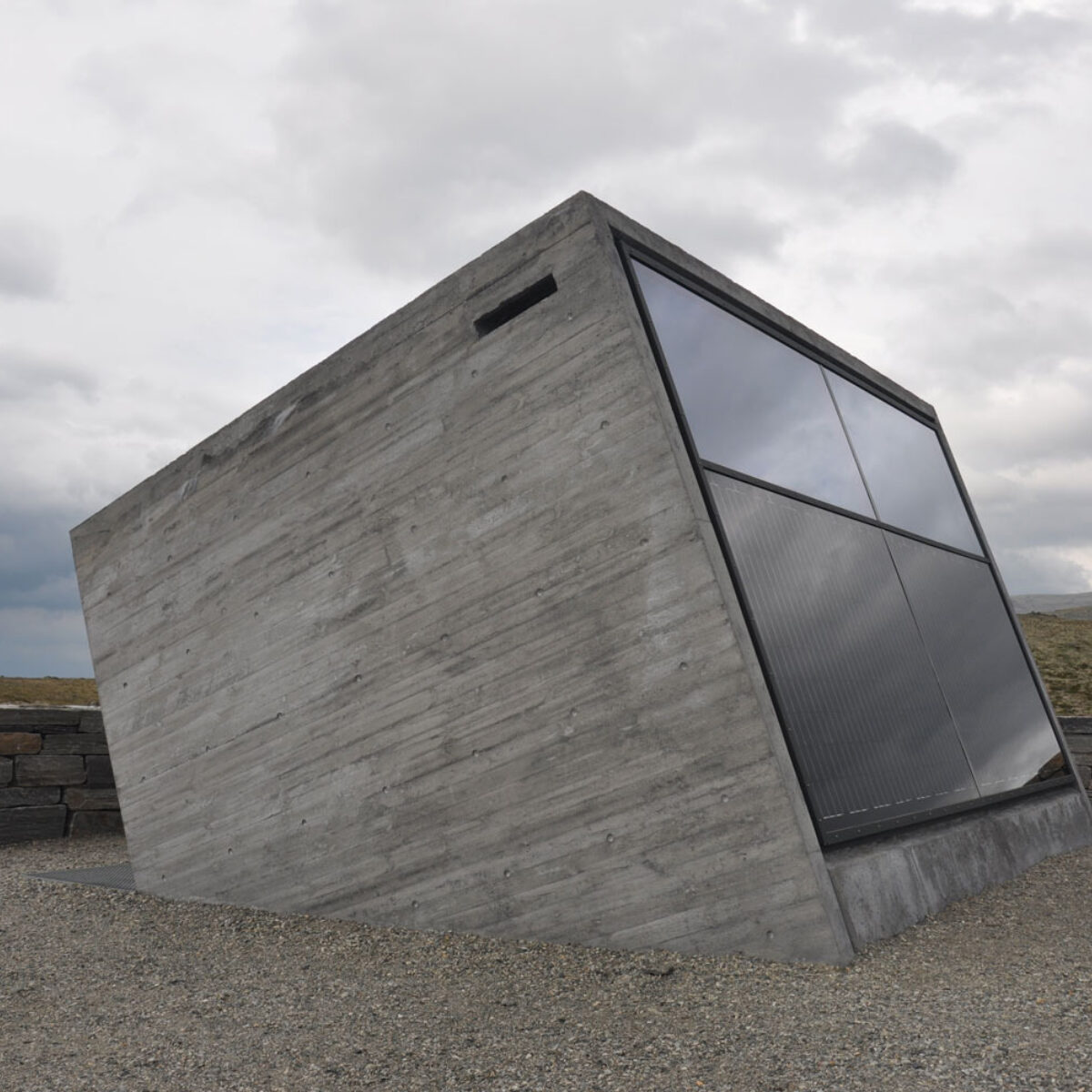 One wall of the building at Flotane rest stop is covered in solar panels, providing the energy for running the JETS vacuum toilets. Architect: Lars Berge / LJB AS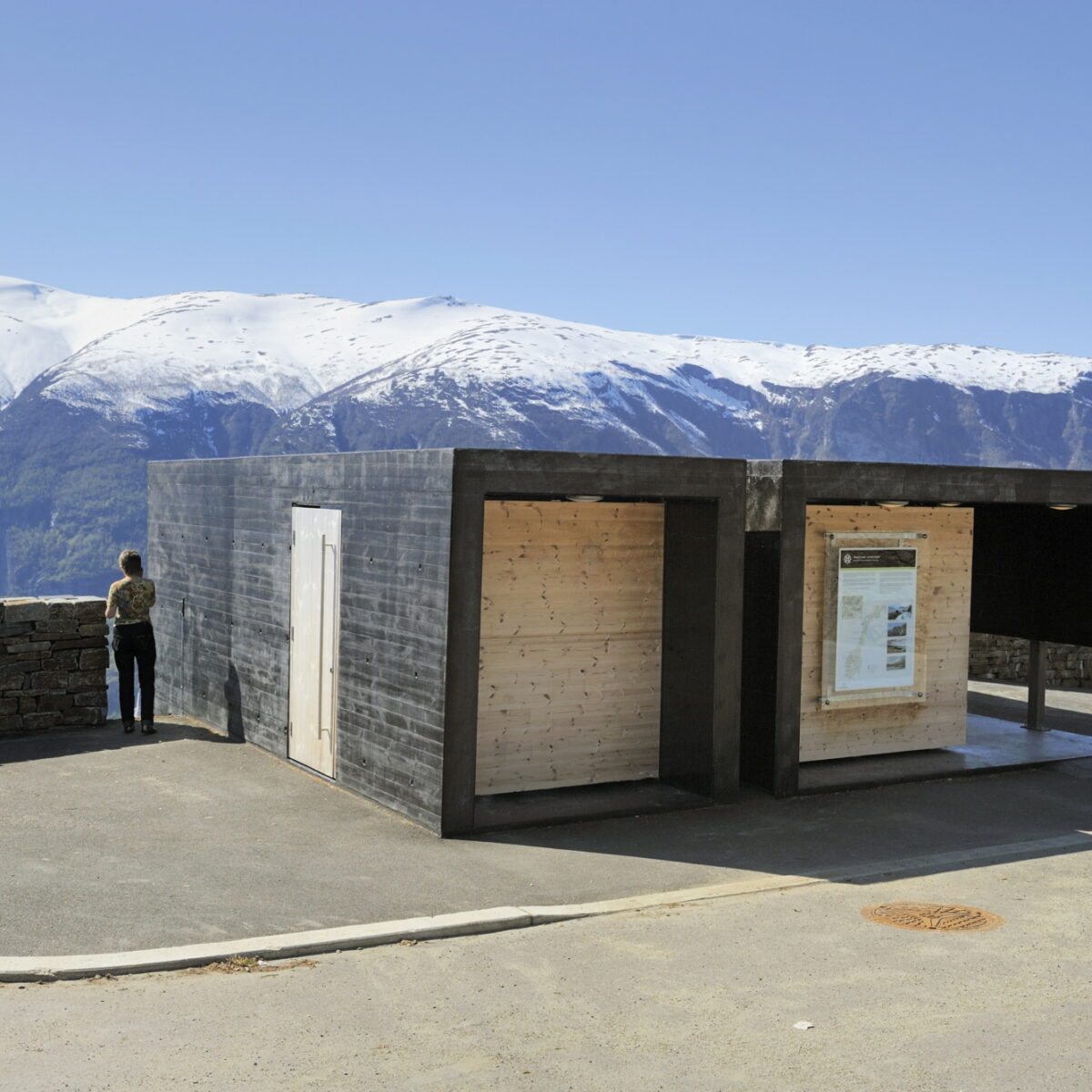 The service building by the Stegastein view point. Designed by architects Todd Saunders and Tommie Wilhelmsen.
Showcase
With half a million visitors annually from all over the world, the new service building by the Trollstigen road is a valuable showcase for Jets™. It is not the first building to achieve that effect: Jets™ toilets are in use all over the world, solving technical and constructional challenges with it's flexible installation possibilities, and earning green credentials for our customers through massive water savings.

It is nice to demonstrate how our products can contribute to solving this type of challenge at home in Norway as well, not least in these amazingly well-designed buildings at tourist attractions with so many visitors. The Trollstigen building is "a monument which will stand well into the future", to quote the Minister of Transport's speech at the opening ceremony.
A total of 18 roads are part of the Tourist Route project, a prestigious undertaking in which magnificent viewing platforms and service buildings have been constructed near famous attractions. At several of these, the Public Roads Administration has benefitted greatly from the use of Jets™ sanitary systems supplied by plumbing contractors local to the attractions.