Mobile systems
Mobile sanitary infrastructure for glamping and camps
Are you planning a campsite? Don't overlook the incredible possibilities of having top-notch water and sewage infrastructure!
One of the main reasons for the rise in popularity of glamping is that it provides a unique experience that combines the beauty of nature with the convenience of modern amenities. Glampers can enjoy the peace and tranquility of the great outdoors without sacrificing comfort or luxury.
Hygienic
Water saving
Quick and easy to install
Glamping made easy with Jets™
Sanitary infrastructure
Glamping, short for glamorous camping, is a trend that has been gaining popularity in recent years. It offers the perfect combination of the great outdoors and luxury amenities. Unlike traditional camping, glamping provides guests with comfortable and stylish accommodations with great sanitary facilities
By using vacuum technology and specially developed sanitary infrastructure and products from Jets™, it is possible to have a fresh and clean toilet out in nature - as if you were in a hotel. With glamping, it's important to keep things small, so five toilets for a small group of glampers is a nice number. These can also share shower facilities. Such a sanitary station can be operated by a ROVER.
Here is an example of a glamping area operated with ROVER. In the picture as shown in the illustration, there are 5 toilets and a shower in strategic places in the glamping area. Each of these sanitation stations is operated by a ROVER. Two units of ROVER have the same collection point.
Sanitation infrastructure for glamping
Jets™ ROVER is specifically designed for camping and glamping sites, as well as smaller events.
A compact sanitation infrastructure, the small footprint and low weight of the unit makes it easy to set up and connect to vacuum toilets and showers.
This gives you great flexibility in planning for sanitary facilities in your guest accommodation areas or for toilet cubicles for your event.
The Jets™ ROVER can be set up to run a range of different combinations of showers and/or toilets.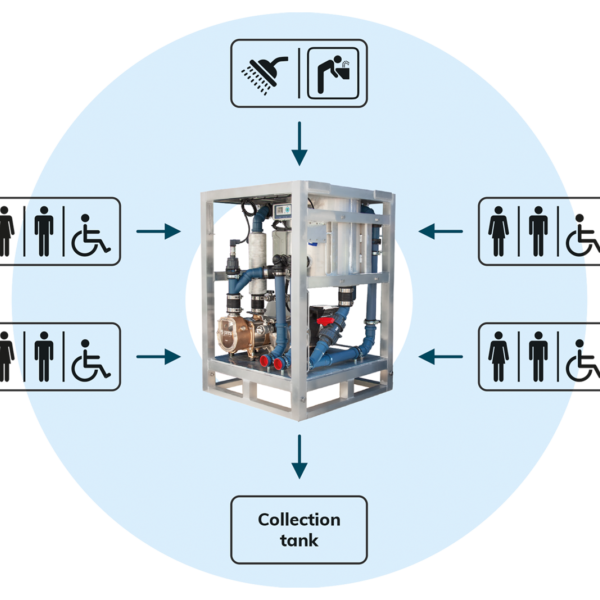 Jets™ ROVER
A lightweight, field-ready vacuum station to quickly create a sanitary infrastructure in remote areas. Learn more about our plug & play unit:
Jets™ ROVER
Jets™ products
Typically, a Jets™ vacuum system include toilet and/or grey water tanks, one or several Vacuumarator™ pumps, and a treatment plant or additional parts as required by the customer.
Products