Ocean Emerald - YachtPlus
Maritime Sector
Yacht owners have a passion for the sea, for adventure, for superb design and exceptional performance. So does Jets™, and that is why our sanitary systems are used on some of the world's finest yachts.
In the yacht sector, knowledgeable and experienced clients set the highest standards for every system installed on board, and builders and owners alike appreciate the compact, elegant and extremely reliable Jets™ solutions.
Project highlights
Type of project: Superyacht
Designed by Norman Foster, this is the first in a range of identical superyachts for YachtPlus
Built in Italy by Rodriquez Cantieri Navali
Luxury and reliability
Although the owner's suite on the Ocean Emerald is a staggering 53m2, space on board superyachts is largely reserved for luxurious accommodation, sun decks, jetski garages and saloons with beautiful interiors.
While space available for equipment and technology is limited, owners and passengers will still accept nothing but the very best solutions on board. The standard of comfort needs to be on par with any luxury hotel, and reliability is paramount - the toilets on board a superyacht cannot fail.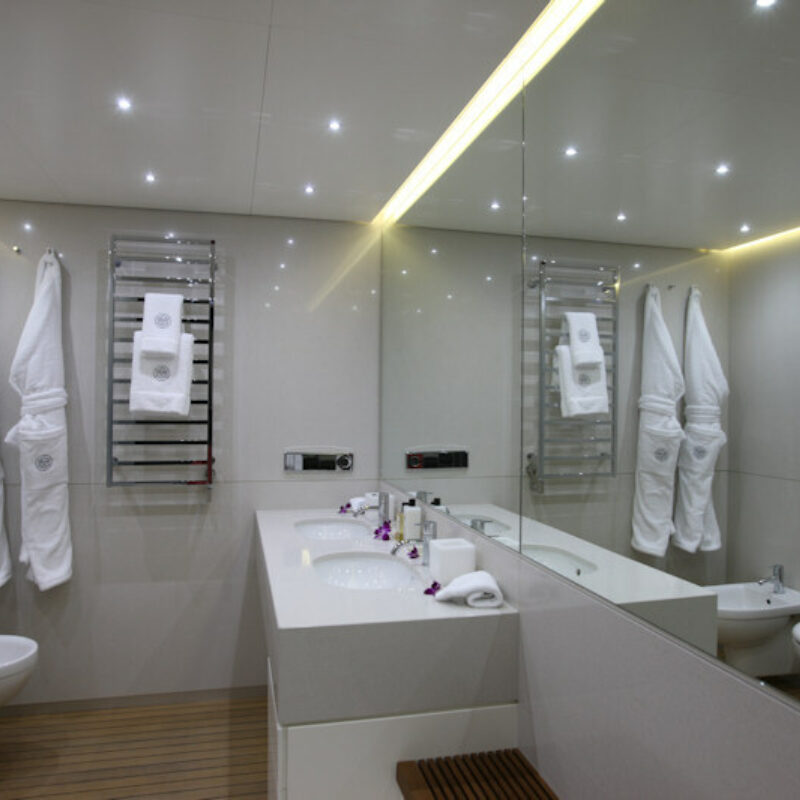 The bathrooms in the Ocean Emerald provides the comfort of home, even at sea.
Flexibility
The compact size of Jets™ systems, particularly the Vacuumarator™ vacuum pump, gives designers greater flexibility and saves both space and weight.
Easy installation has led to Jets™ being preferred by many yacht builders. Jets™ yacht systems feature the exact same reliable technology and quality upon which cruise ships depend. They are designed to function smoothly while providing ample vacuum generating capacity, and do just that.
The Ocean Emerald is the first in a range of identical superyachts for YachtPlus.
Trusted solution
In a market where nothing but the best will do, Jets™ vacuum systems are renowned for their reliability. Superyacht owners world wide trust us to deliver the comfort of home, even at sea. The system's minimal footprint on board ensures that as much room as possible is available for use by the owner.
In addition to the builder of the Ocean Emerald, Jets™ is also considered a "State of the Art" system by several other leading yacht builders such as Azimut-Benetti, Hakvoort, Lürssen, and more.