Why vacuum sanitary systems are the future for modular buildings
Construction and public
Discover a flexible sanitary solution that effortlessly adapts to modular buildings that function as classrooms and hospital wards of any size, suiting both temporary relocations and permanent installations.
At times, there is a pressing need to construct buildings quickly. This could be in response to a health emergency, the need to replace structures affected by reinforced autoclaved aerated concrete (RAAC), or simply due to the general school redevelopment programme (UK). In all these situations, a common challenge arises: connecting the new constructions to existing water and drainage systems.
With hundreds of buildings, including schools, earmarked for renovation, how can this be achieved when the traditional construction methods often result in years of waiting?
- The solution for many is to embrace modular buildings.
As modular buildings and modern methods of construction are becoming the new norm in such situations, traditional sanitary systems can contribute to unnecessary delays and unforeseen costs. Fortunately, there is a solution that allows contractors to stay ahead of the game in both time and expenses, and most importantly, predictability.
The ideal sanitary system for temporary buildings
With vacuum sanitary systems, modular buildings can have fully equipped bathrooms with toilets without the use of traditional, expensive, and time-consuming plumbing.
Sanitary systems, leveraging vacuum technology, offer more adaptability than traditional gravity-driven methods, enabling waste transport in multiple directions, both vertically and horizontally. They often result in reduced construction costs, as they minimize extensive excavation associated with traditional plumbing. Their compact infrastructure also allows for greater design freedom and efficient space utilisation, making them an attractive alternative for modern construction projects. Furthermore, these systems consume less water, promoting sustainability. For the user, the toilets operate just like regular WCs, with the appearance of modern porcelain toilets.

With vacuum sanitary systems, modular buildings can have fully equipped bathrooms with toilets without the use of traditional, expensive, and time-consuming plumbing. Today's modern vacuum toilet looks and feels like a traditional toilet to the user. Here you see one of the models produced by Jets Vacuum AS.
Insight through several years of experience
For nearly 40 years, we at Jets have been working with vacuum technology to address the challenges of sanitary systems both at sea and on land. Confronting these challenges for various needs has given us robust expertise, enabling us to develop solutions and products in collaboration with high-performing clients for many years. For both stationary and mobile solutions on land, we have seen and created a compact, sturdy, and reliable system that quickly integrates into modules, pods, and other structures.
Also, did you know that vacuum toilets are more hygienic than regular toilets? Another reason why this solution is perfect for a larger user group - like students or vulnerable patients. Read more about that here:
The world's most sustainable office building, Bloomberg's London headquarters, chose vacuum solutions from Jets Vacuum AS. Vacuum drainage earned extra innovation credits during its BREEAM assessment, contributing to the building receiving the highest score ever awarded to any major office development
The advantages of using a vacuum sanitary system:
Here are the advantages of vacuum sanitary system that are crucial for the modern and modular Construction:
Reduced groundwork: Connecting remote buildings with traditional sanitary systems often requires extensive excavations. With Jets® Vacuum drainage systems, this can be either eliminated or addressed with shallow excavations. For the construction industry, this means shorter preparation time, less need for heavy equipment, and a lower risk of disturbing existing infrastructure or contaminated ground.
Optimal space utilisation: With vacuum solutions, the pipes are significantly smaller compared to traditional gravity drainage. You also have the run drainage connection in a similar fashion as pumped system (transfer vertically and horizontally since the waste is transported using vacuum). This gives the contractor unparalleled freedom in the design and placement of sanitary facilities anywhere in the building. There is no need to position toilets directly above or close to the main stack or sewer, often a requirement with conventional systems.
Faster implementation: Time is a critical factor on construction sites. Jets® Vacuum drainage systems are easy to set up, allowing for quick and efficient implementation. Vacuum system pipework installation involves the same skill set as conventional gravity drainage, but small pipe sizes mean easier installation. This can expedite project completion and significantly reduce labor costs.
Easy connection: Even if the new buildings are to be positioned away from existing sewage system, the solutions from Jets® Vacuum already includes pumps which assist in connecting new buildings to remote sewers.
Durability under extreme use: With a robust design, our systems are built to withstand the intense daily use. Vacuum drainage components are proven and tested even for extreme frequency and use experienced at large music festivals and events. We are also the dominant supplier for cruise ships worldwide, a customer and location where "out of service" is not an option.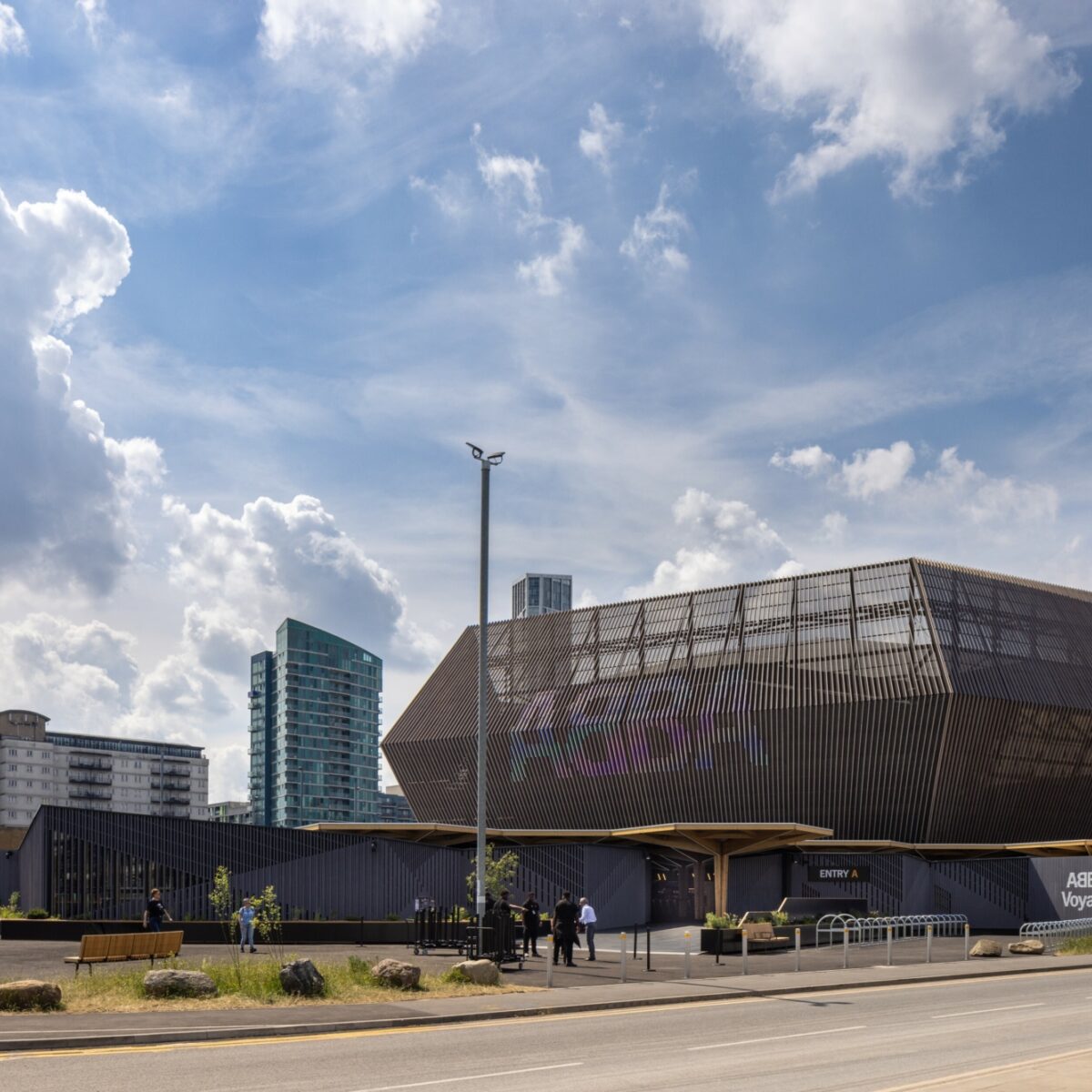 The ABBA Arena in London is built for the never-before-seen concert: ABBA Voyage. We are proud to deliver innovative vacuum sanitary systems to ensure state of the art sanitary standard at the ABBA Arena.
The efficient upgrade for modular construction
For those in the construction industry looking to accelerate delivery programmes or optimise the efficiency of their temporary or modular buildings, Jets® represents a gold standard in sanitary solutions. It's not just about providing facilities; it's about doing it in the smartest, fastest, and most cost-effective way. We have many examples, the most famous being the ABBA Arena where we provided a site-wide sanitary system and modern toilets facilities.
So, for all contractors and decision-makers involved in the construction of modular buildings, the message is clear: When it comes to future-proofing your sanitary solutions, Jets Vacuum stands out as the go-to partner.
By embracing innovation in sanitary infrastructure, we can build faster, smarter, and more economically.
Contact our team of experts at Jets, to discuss how vacuum technology can transform your approach to sanitation in modular buildings. Find your representative in the link below